DE-STONER
The de-stoner can be used for separating dry granular material according to specific weight into two fractions. The goal is the elimination of heavy impurities, such as stones, metallic particles and other objects from, for example, coffee, grain or pulses.
FUNCTIONS
Eliminating stones mixed in granular materials such as green coffee beans, grean bean, soya beans, corn, pepper…
Removing grit, stone, glass fragments from raw materials before loading into the next stage
PRINCIPLE OF OPERATION
Running based on the vibration of the vibrating motor, forced suction of the fan and the inclination of the screen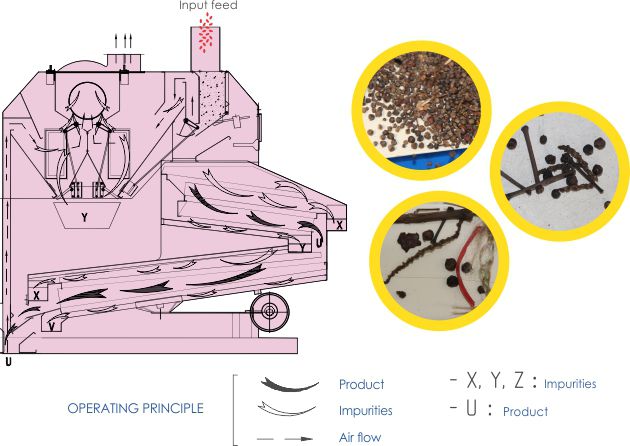 SPECIFICATIONS
| | | | |
| --- | --- | --- | --- |
| Model | Capacity (ton/hour) | Power (HP) | Dimension (LxWxH,mm) |
| LSV – 3 | 2 ÷ 3 | 5.5 | 1650 x 1200 x 2100 |
| LSV – 6 | 4 ÷ 6 | 5.5 | 1650 x 1200 x 2100 |
| LSV – 12 | 10 ÷ 12 | 10 | 1650 x 1600 x 2100 |
SYSTEM DIAGRAM
ADVANTAGES
Easy to remove or assemble the screen.
Easy to adjust feeding speed.
Easy to adjust the viberation structure by the inverter
Stone removing rate reaches to 99%
Minimize the vibration on the ground.
Reducing dust spreading outside
Modern technology
High durability
Easy to operate
Electricity saving
Improve processing efficiency for the whole system
Minimize labor workforce in the processing line
FREQUENTLY ASKED QUESTIONS
I want to visit VNT's sample system?
VNT has more than 30 years experience in manufacturing equipment and systems for processing agricultural products such as coffee, pepper, cocoa … in Vietnam and over the world. Depending on your requirement of machine capacity and factory's location, we will give the most suitable advice as well as arrange a suitable place for you to visit. Please contact to our hotline 0966 757 757 to get more information.
I want to know about VNT warranty policy?
VNT provides free warranty service within 12 months from the date of delivery of the product for mechanical parts. Electric components, bearings, motors and other components not manufactured by VNT are warranted within 06 months. Please read the manual instruction carefully to understand the policies applied at VNT and how to contact VNT's warranty department.
I want to know how to contact to VNT?
Please contact to our hotline 0966 757 757 for supporting. In addition, you can leave a message in the "Contact for price" section below, we will get back to you within 24 hours.