COFFEE ROASTER VNTR 12KG
Applying modern technology and techniques, the coffee roaster VNTR 12kg controls and adjusts the roasting mode fully automatically to bring the highest precision in the roasting process, creating a great flavor for any type of coffee. Vina Nha Trang's 12kg coffee roaster is an industrial coffee roasting machines that is suitable for coffee shops, coffee roasting companies from small to large depending on the needs of use.
Catching the technological trend and the market demand has become increasingly demanding, VNT team has focused on researching and setting up a new automatic controller – fully automatic – to produce the roasters with the most modern technology in the world. With the PLC, thermal sensors, analysis software … the delicious and tasty coffee will not be too difficult to reach.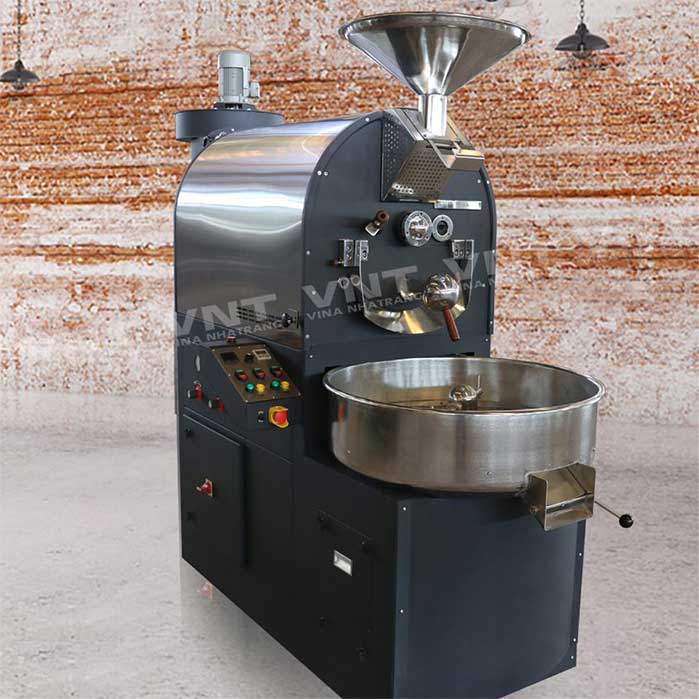 FUNCTIONS OF THE COFFEE ROASTER VNTR 12KG
Used to roast green coffee

Roasting time from 12 to 20 minutes

Uniform coffee bean quality (95-99%)

Roasting program is connected to electronic devices such as computers, smart phones, etc
SPECIFICATIONS OF THE VNT'S 12KG COFFEE ROASTER
The specifications of the VNT's 12kg coffee roaster

| | |
| --- | --- |
| Capacity | 36 – 48kg/hr, 6 – 12kg/batch |
| Gas consumption | 3 – 4kg of gas/100kg of coffee beans |
| Electricity consumption | 3.36 KWh |
| Power supply | 3 phase – 50Hz |
| Dimension (LxWxH) | 2800 x 1000 x 2250 (mm) |
| Approx. weight | 800kg |
PRINCIPLES OF OPERATION OF THE VNT'S COFFEE ROASTER
STRUCTURES OF THE VNT'S 12KG COFFEE ROASTING MACHINE
FEATURES OF THE CONTROL SYSTEM IN THE INDUSTRIAL COFFEE ROASTER VNTR 12KG
Easy to control

Manual control or Automatic Control via PLC monitor

Connect to PC via Artisan software for saving roasting recipes

HMI touch screen is easy to interact with the user, while displaying roasting parameters, coffee beans temperature, hot air and temperature rises for 1 minute (BT, ET). Equipment status helps to control the roasting process to ensure the quality of coffee at the highest level

The Phidgets 1048 hardware installed in the roaster connected with 2 thermometers for coffee beans temperature and hot air, and then analyzes, creates the basis for selecting and storing the most accurate profile. The optimal set-up process saves processing time, above all, creates consistency in the quality of finished products of various batches
FUNCTIONS OF THE ROASTING DRUM
Having air cushion
Having

agitators in order to shine coffee beans and restrict scorching the beans

Ensure food safety standards

Drum made from temperature resistant stainless steel

Double rum jacket design make consistent of heat and protect the roasting defect happen
HEATING METHOD APPLYING IN THE VNT'S COFFEE ROASTER
Infrared burner or blue flame burner
Gas

burnt completely

No smoke
COOLING SIEVE & FAN
Fast cooling (3-5 mins)

Cyclone dust collector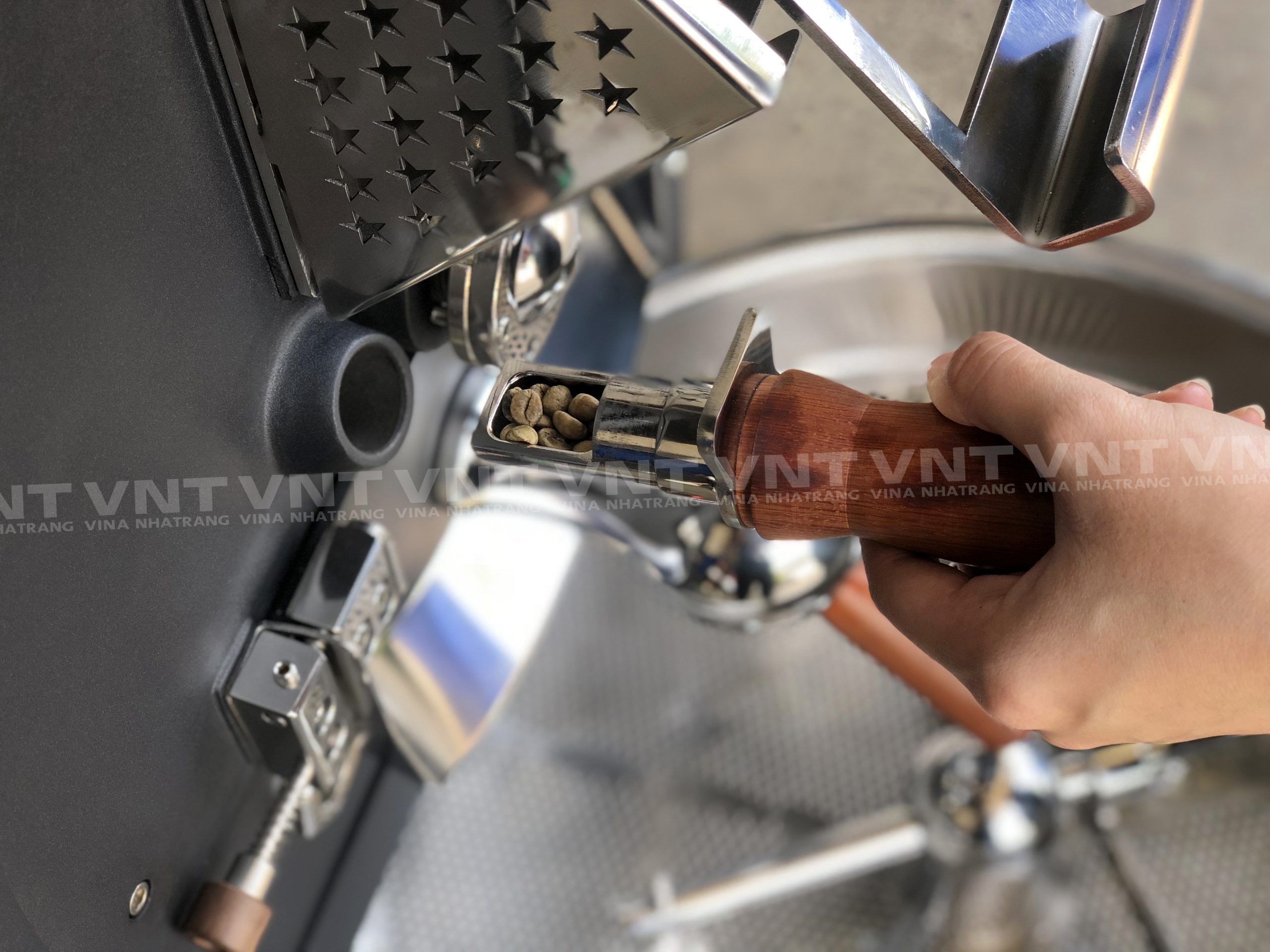 BODY OF MACHINE
Insulated, limit heat release outside
Heavy duty reinforced steel
BENEFITS OF USING THE VNT'S 12KG COFFEE ROASTER
Easy to check the sample during roasting

Able to adjust after taste of coffee beans

Able to adjust

the temperature and roasting time for each type of coffee

Easy to operate, clean and maintain

Energy saving

Minimize polluted air such as: NOx, COx… 

Less gas supply than the other 30 – 40% because infrared system
CUSTOMER SERVICES
Instruct roasting technology for free to customers

Instruct to customers who do not have experience in roasting coffee

Support the warranty and maintenance in the customer's place
FREQUENTLY ASKED QUESTIONS