BURNER SYSTEM
The burner is used to provide heat into the drum dryer, evaporating the water contained in the drying material (wood chips/sawdust).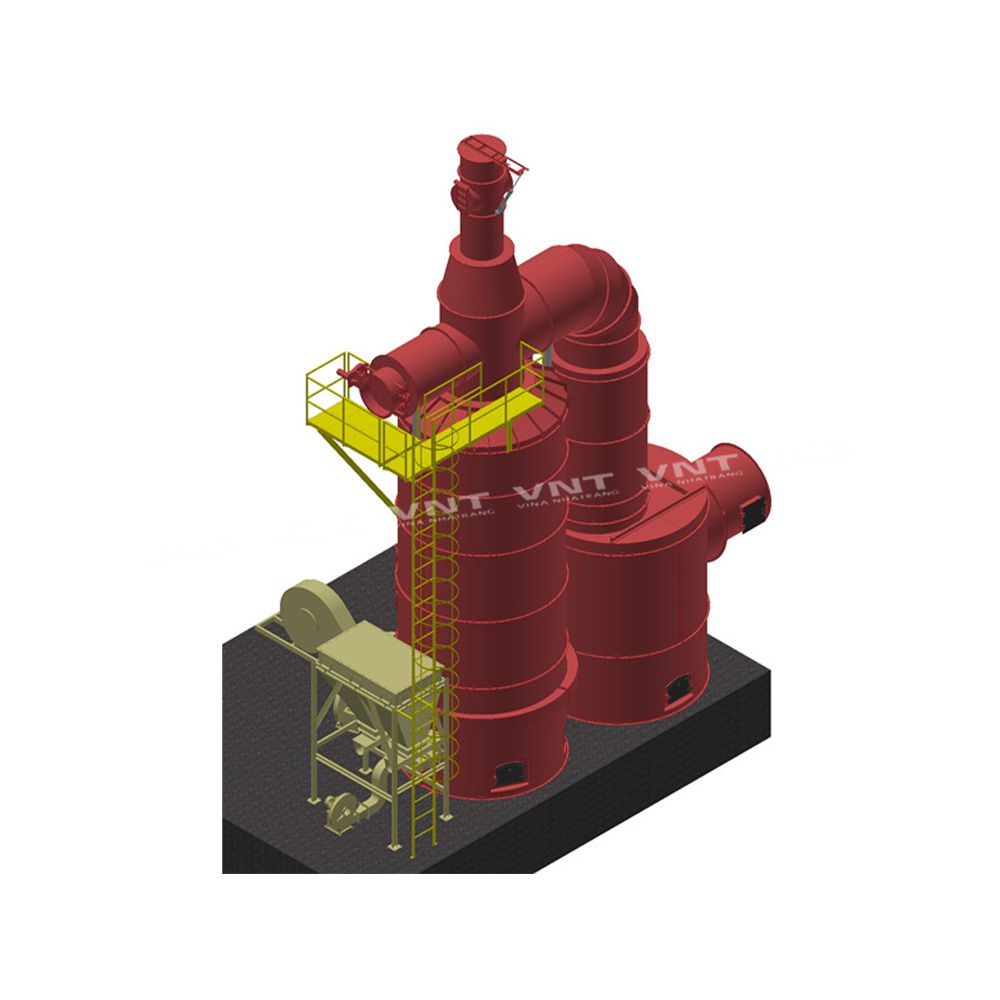 FUNCTIONS
Supply hot air into drum dryer to evaporate water in the drying material (wood chips, sawdust)
Humidity sensor helps the operator easy to recognize the current humidity of the input material in the drying drum, thereby, easy to make decision to increase or decrease the burner temperature accordingly.
SPECIFICATIONS
BURNER SPECIFICATIONS

Heat capacity

6000 ÷ 10.000 kW

Burner type

Fluid bed grate

Combustion material 

Wood chips, dimensions 30×30 mm, thickness 5 – 10 mm

Moisture of combustion material

< 40%

Burner control 

Automatically control and via PLC screen

Control and display functions

– Control fan speed according to drying temperature




– Adjusting the combustion material supplied to the combustion chamber




– Periodic slag collection




– Adjusting the valve to take fresh air into the dryer




– Automatically release smoke when detecting problem in the drying system
PRINCIPLE OF OPERATION
Combustion material is fed into the combustion chamber through a screw conveyor, based on the fan blower, the material will be evenly spread on the surface of the fluidized bed.
The blower below the fluidized bed adjusts the air flow to create a stable combustion in the combustion chamber.
Blower level 2, providing oxygen to burn the remaining ashes.
The hot air coming out of the combustion chamber will be mixed with the fresh outdoor air, providing enough heat amount for the dryer capacity.
During the drying process, when detecting problem, the smoke exhausting valve will automatically open to release the smoke into outside.
PICTURES OF BURNER
ADVANTAGES
Automatic temperature control
Reducing drying time
Modern technology
High durability
Easy to operate
Electricity saving
Improve processing efficiency for the whole system
Minimize labor workforce in the processing line
FREQUENTLY ASKED QUESTIONS
I want to know how to visit VNT's sample system?
VNT has more than 30 years experience in manufacturing equipment and systems for processing agricultural products such as coffee, pepper, cocoa … in Vietnam and over the world. Depending on your requirement of machine capacity and factory's location, we will give the most suitable advice as well as arrange a suitable place for you to visit. Please contact to our hotline 0966 757 757 to get more information.
I want to know how to contact to VNT?
Please contact to our hotline 0966 757 757 for supporting. In addition, you can leave a message in the "Contact for Price" section below, we will get back to you within 24 hours.